Summary of evidence for V (BTS) and Kim Yoo Jung (Korean actress) dating
March 26, 2020
Recently, an anonymous account on social networks has launched a series of convincing evidence to confirm that V (BTS) and Kim Yoo Jung are actually dating. The evidence related to the couple accessories, the same hobby and many suspicious interactions between the two stars.
The fact that famous couples detected their dating by netizens is not new in the Korean entertainment industry. The Couples could be mentioned as Lee Min Ho and Suzy in 2015, the news of their dating made a storm to the Asian public. The reason why many people were surprised by this news is because before that, the two actors did not have any interaction or contact in any projects. Similarly, the couple of 2019 was Kai (EXO) and Jennie (Blackpink).
Recently, another couple who seemed unable to have any connection in the artworks sparked suspicion throughout the online forums. A celebrity discovery and scrutiny account has provided quite convincing evidence for the statement. It is a series of evidence to prove that V (BTS) and Kim Yoo Jung – famous actress are dating.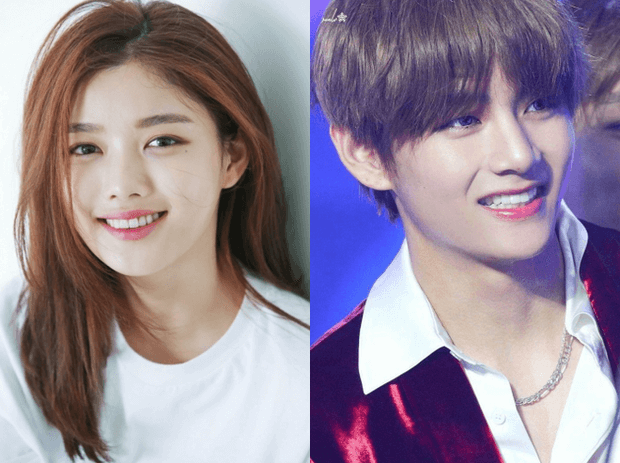 Let's take a look at the evidence series below.
The accessories that both use are non-branded products such as rings, bracelets, necklaces. It's not uncommon for stars to use the same accessories from famous brands. And this seems to be happening everyday so few people will care about that. However, the two famous stars using the same non-branded accessories will be very suspicious.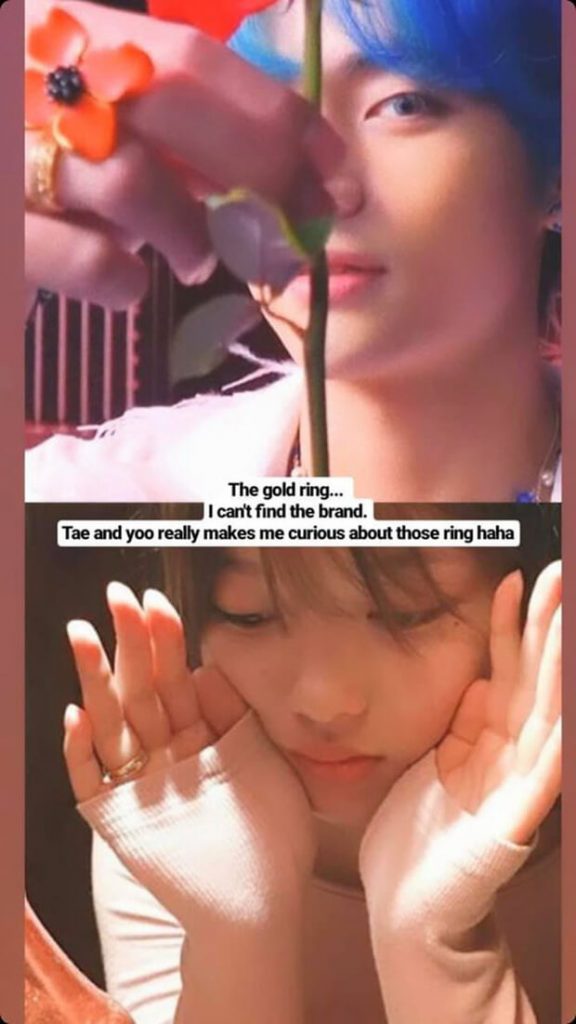 Fans have found that the actress wore this yellow ring in January 2019 and the famous singer also wore the same ring at about the same time. It is that making the fans on both sides very curious.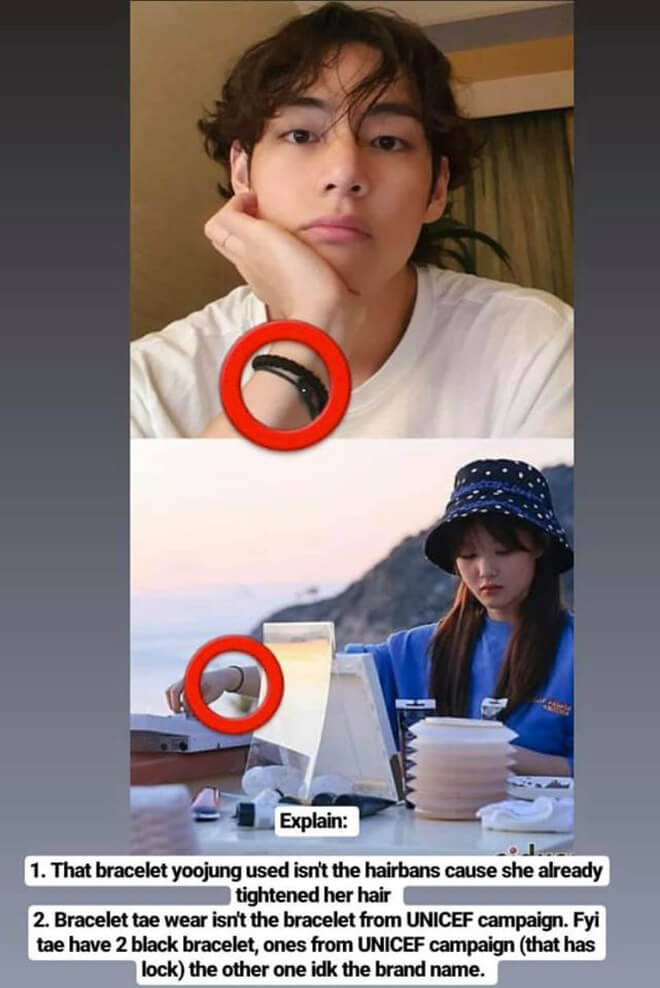 Change of interests for the other half
Yoo Jung changed her favorite color. Specifically, in the past she admitted that her favorite colors were white and pink. However, recently silver is her favorite color. Netizens immediately related to V (BST), because silver is the color that has always been associated with him ever since his debut.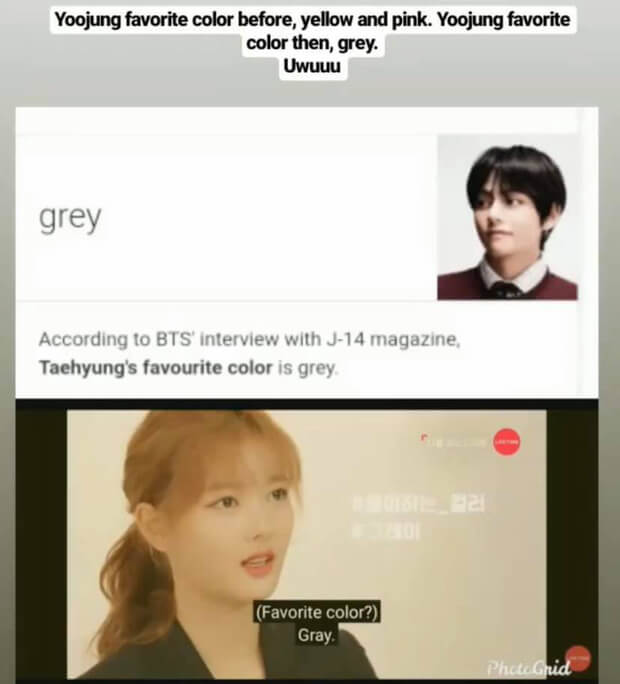 In contrast, V (BST) expressed his hobby of collecting Jazz music in August 2019. Coincidentally, the actress has this hobby since the end of 2018. Netizens asked themselves , whether Yoo Jung inspired the love of jazz for this handsome guy.
In 2017, both of them publicly published their pets on Instagram at roughly the same time. Specifically, 3 days apart. Many wonder if there is any connection between the two celebrities in this story. There is even a picture of two dogs sitting on a sofa with very similar designs. And of course these are two different images but the same background.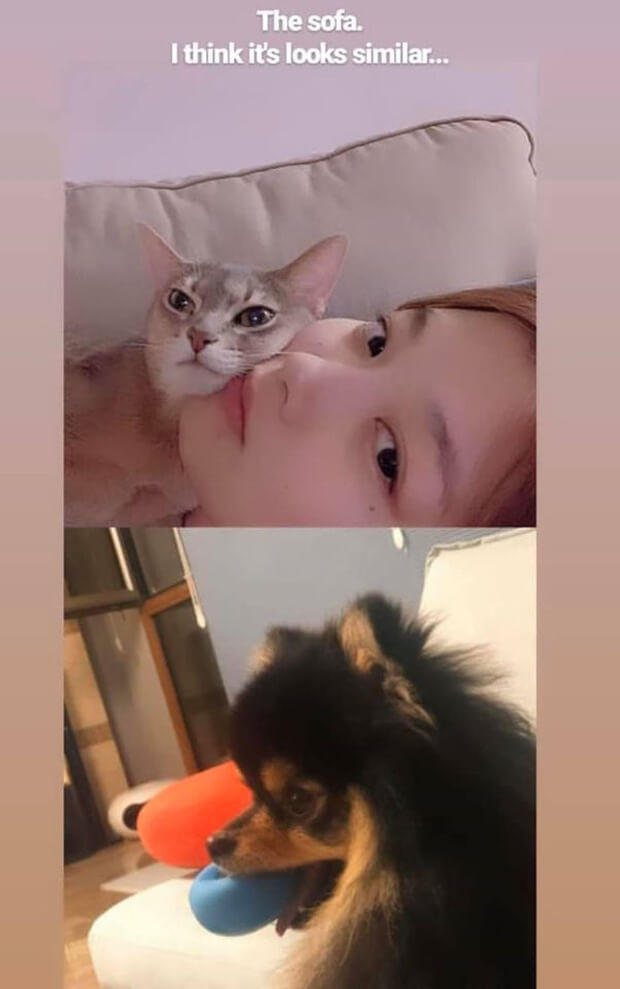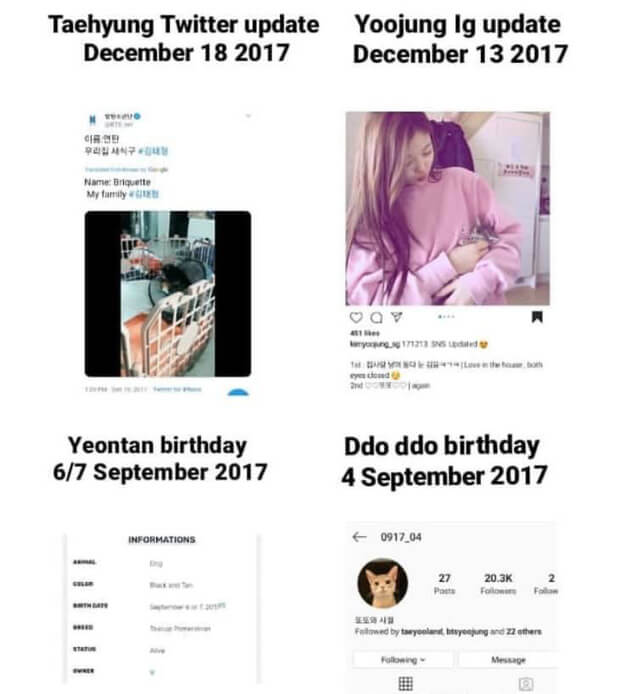 Above is some evidence that two famous people are dating. And is this true or is it just a fan trick? Let's follow each action of the two and wait for official information from their representatives. Wish them happiness in work, life and other relationships.